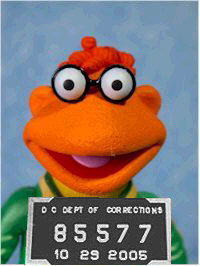 Good Heavens Americans !
A few days before our national party of liberty,
our worst president does it again !
Scratch your head and make you go - hmm....
That's right, Scooter is free to go and thankfully, the rest of the Muppet Show will be able to get the show started ! I have rarely, if ever supported Mr Kucinich when he trolled our corrupt halls of old Cleveland politics. I have been on his website as of late, angry about Mr. Cheney's corrupt cowboy games and agree that HE is the center of the mess and should be removed.
Having his deputy Roscoe P Coltrane Bush III pardon Luke Duke Scooter ? Again, more
wrong way lost highway politics. Please click on Dennis' link and
http://www.usalone.com/cheney_impeachment.php